Fraiser's Heart Haiti Mission
OUR MISSION:
The Fraiser's Heart Haiti Mission is a life-aiding group of Americans and Haitians joined together to amend the natural and spiritual needs of Haiti; one village at a time.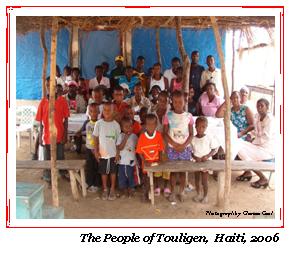 ABOUT US (The Story):

Fraiser Cexil was born in a small village on the Ile de Lagonave in Haiti. He was the sixth child born out of seven to Marcillia Cexil and Saint Aman Cexil. At the age of five he was separated from his family by missionaries that had been ministering in the area. He was brought to the United States and raised by these same missionaries that he knew as "momma" and "papa". He knew no other family except for an older brother that the missionaries told him was living in Florida. Fraiser did not even know his real nationality as he grew up thinking he was from Belize. At the age of 17, these missionaries passed away and Fraiser was living on his own. At that time, he decided to go to Florida to find his brother. The relationship was very distant because they had not grown up together and eventually lost contact for more than 20 years.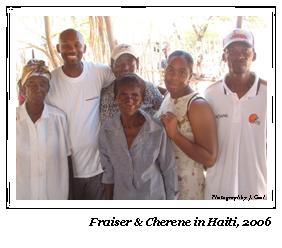 In 2003 Fraiser was inspired to find his brother once again. God worked a miracle for him and he not only found his brother again, but discovered he had many relatives, including his biological mother still living in Haiti. His church family of Robbins Memorial Church of God in Christ united together to sponsor Fraiser and his wife, Cherene, to go to Haiti and meet his mother and family for the first time since the age of five. Blessings of money, clothes and medical aid were donated for Fraiser to take to the people he would meet in Haiti. It was in 2006 that Fraiser was reunited with his mother and biological family.
(Photo above: Fraiser and his biological mom in Toulegin, Haiti
). The village people heard about Fraiser's return and came from all over the island to witness the "lost" or "dead" son for themselves. It was at that time that Fraiser discovered his mother did not give him away, but that he was taken by the missionaries without her knowing. His mother praised God with joy because her testimony was that God promised her she would not pass away until she saw her baby boy face to face again.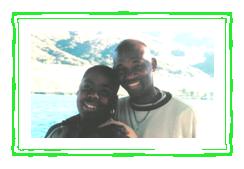 Through that experience, God called both Fraiser and Cherene, to the ministry of missions, intercession, and humanitarian work in Haiti. Fraiser use to be one of the little Haitian children you see in the picture below; hungry, naked and living in poverty. But God had a purpose and a plan that would bring Fraiser back to his people in a position to help them in a very special way. And this is the ordained ministry that God birthed in him, the Fraiser's Heart Haiti Mission.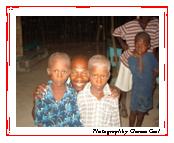 PLEASE HELP, click on "ONLINE GIVING"
from the home page to donate using your Debit or Credit card.
OR

MAIL YOUR CHECK PAYABLE TO :
ROBBINS MEMORIAL CHURCH OF GOD IN CHRIST
3868 W. 54th Street. Los Angeles, CA 90043
Write in the memo: Fraiser's Heart Haiti Mission
Church Office: (323) 298-9303
email: fraisersheart@yahoo.com
Facebook: Fraiser's Heart Non Profit
To view more photo's of each Haiti mission trips, please click on the "media" tab above to locate the Fraiser's Heart Photo Gallery.

[
back
]